Spicy Clams
Spanish clams, specially in the North, are much larger than clams found elsewhere, and have more succulent bodies. This modern recipe uses Arab spicing to make a hot dip or sauce. Serve with plenty of fresh bread to mop up the delicious juices!
Serves 4
Preparation time: 15 minutes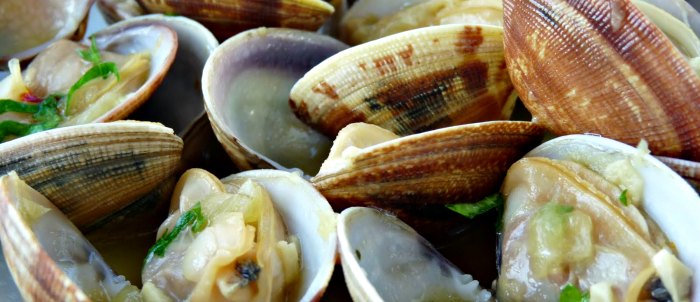 Ingredients
1 small onion, finely chopped
1 celery stick, sliced
2 garlic cloves, finely chopped
1 inch piece fresh root ginger, grated
2 tablespoon olive oil
1/4 teaspoon chilli powder
1 teaspoon ground turmeric
2 tablespoon chopped fresh parsley
1 1/4 lb small clams, in the shell
2 tablespoon dry white wine
Salt and ground black pepper
Celery leaves, to garnish
Fresh bread, to serve
Preparation
Place the onion, celery, garlic and ginger in a large pan, add the olive oil, spices and chopped parsley and stir-fry for about 5 minutes. Add the clams to the pan and cook for 2 minutes.
Add the wine, then cover and cook gently for 2-3 minutes, shaking the pan occasionally. Season. Discard any clams that fail to open, then serve, garnished with the celery leaves
Cooking tips
There are many different varieties of clam fished off the coast of Spain. One of the best is the almeja fina (the carpet shell clam), which is perfect used in this dish. They haved grooved brown shells with a yellow lattice pattern.
Before cooking the clams, check that all the shells are closed. Any clams that do not open after cooking should be discarded.
You may be also interested in...
See also...
Spanish Seafood recipes: The long coastline of Spain, combined with the two archipelagos, the Balearics and the Canaries, ensures that fresh fish and shellfish are ubiquitous elements of the Spanish table.
Galicia recipes: Its cuisine is one of the main tourist attractions of Galicia: the exquisite delicacies of this region are based on the high quality and variety of the local products used in the preparation of dishes. Country, farm and sea products are unique in their characteristics and quality. Furthermore, it cannot be forgotten that one of the main pillars of Galician cooking is the professionalism of its experts. Galician chefs are found world-wide.