Strong sangria recipe
For those who like their liquor strong, this powerful sangria recipe aims to please. Fortified with wine, vodka, and gin, this recipe will strip you from your everyday worries (and perhaps, your memory as well). Olé! 
Makes 6 glasses
Difficulty: Very easy
Preparation time: 10 minutes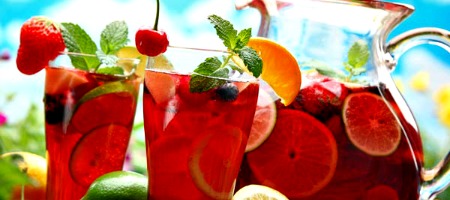 Ingredients
3 1/4 cups ( 26 fl. oz) dry red wine
2 cups (16 fl. oz) sparkling apple juice
4 tablespoons gin
4 tablespoons citron-flavored vodka
2 tablespoons sugar
Juice of 1 large orange
Juice of 1 large lemon
1 small orange, sliced thin crosswise
1 small lemon, sliced thin crosswise
1 small lime, sliced thin crosswise
Preparation
Pour all the ingredients into a large pitcher, mix well, and refrigerate. Serve chilled over ice.
You may be also interested in...