Torta del casar
Interesting Extremaduran cheese, with an intense flavour and creamy texture.
The town of Casar de Caceres gives its name to one of Spain's best sheep's milk cheeses, which, following the ageing process, has the peculiarity of being converted, most of the time, into cakes (those that liquify inside and have a hard rind that when cracked allows the cheese to flow out).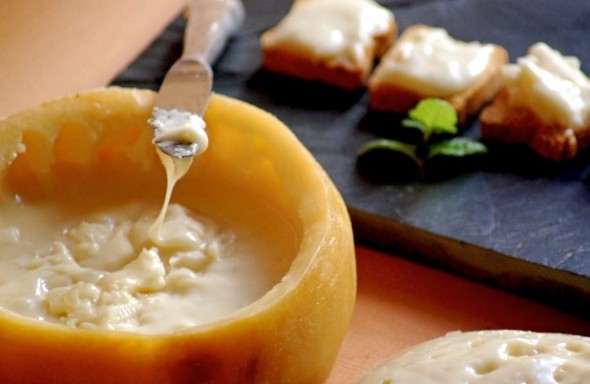 The sheep's milk from which it is made is curdled with thistle flower and is the left to age for 60 days. The thin rind opens under the pressure of the proteolysed, spreadable, creamy, almost liquid paste. Its colour is yellowish, and its flavour -slightly salty and slightly acid- and aroma are unique. All of this makes it a truly extraordinary cheese. It weighs between 500 and 1,100 grams. It is eaten as an appetiser or a dessert, spread on bread and always accompanied by a good wine.
| | |
| --- | --- |
| | Torta del Casar Soft Cheese, D.O.:The fabled Torta del Casar is an incredibly rich, intensely flavorful cheese from Extremadura. Slice off the top and the interior is almost liquid, and you are ready spoon this intense, aromatic cheese onto crusty bread for a treat you will find nowhere else |
Origin
The manufacturing area comprising this Denomination of Origin is located in the natural regions of Llanos de Cáceres, Sierra de Fuentes and Montánchez.
Recommended drink
It is excellent accompanied by dry generoso wines, non-crianza white wines and crianza or non-crianza red wines.
You may be also interested in...
See also...
Extremadura recipes: The Extremaduran countryside never ceases to amaze the visitor, with its dry plains, luxuriant pastures, mountains, marshes, meadows and fields.... In each area there are different products, the crops and livestock influencing the local dishes.