White Sangria
Bursting with sparkling flavor, this clean version of sangría is unique in its use of ice cubes made from apple juice. For parties, this can be served in a large, transparent punch bowl next to a transparent bowl containing traditional red sangria. This pairing provides a beautiful contrast, provided they are not immediately consumed by eager guests, as is often the case. 
Makes 8 glasses
Difficulty:  Very easy
Preparation time:  10 minutes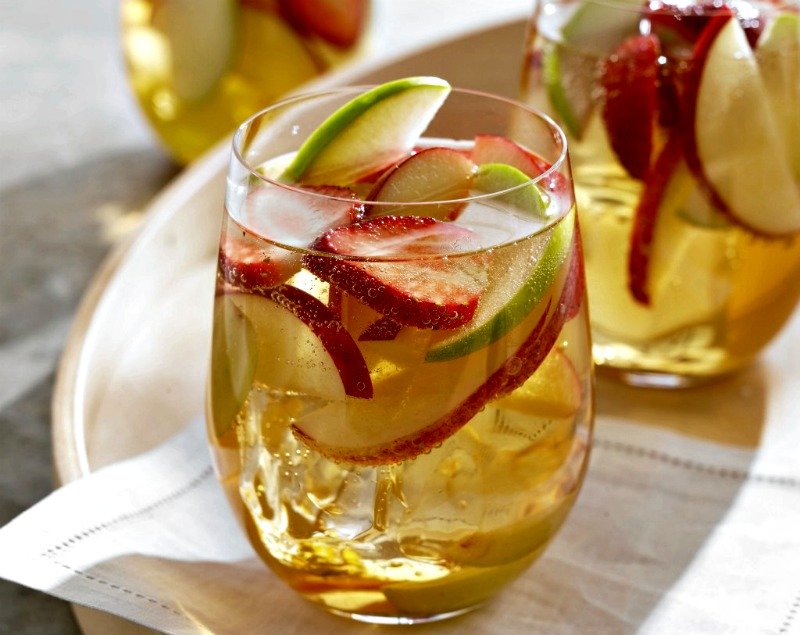 Ingredients
Apple juice, for ice cubes
1 1/4 cups (10 fl. oz) water
1 small bunch fresh mint
1/2 cup (3 1/2 oz) sugar
3 cinnamon sticks
3 1/4 cups (26 fl. oz) dry white wine
2 medium peaches, peeled, pitted and sliced
2 small pears, cut into chunks
2 medium oranges, sliced crosswise
2 small lemons, sliced crosswise
3 cups (24 fl. oz) sparkling apple cider
Mint leaves, to garnish (optional)
Preparation
To make the apple juice ice cubes, pour the apple juice into two ice trays and freeze until the sangría is ready to serve.
Combine the water, mint leaves, sugar, and cinnamon in a small saucepan, and bring to a boil over medium heat. Reduce the heat and simmer for several minutes. Remove from the heat and allow to cool. Once the mixture has cooled to room temperature, remove and discard the mint and cinnamon sticks.
Transfer the remaining mixture to a large serving bowl.
Add the wine, peaches, pears, and the orange and lemon slices to the serving bowl. Mix well, and refrigerate overnight. Immediately before serving, mix in the sparkling apple cider and the apple juice ice cubes.
Garnish with fresh mint leaves, if desired.
You may be also interested in...
See also
Andalusia recipes:  The Romans taught the Andalusians how to cultivate wheat and vines and used the fish from the seas to produce the best "garum" in the empire. The Arabs taught the Andalusians how to grow fruit and vegetables. They used irrigation systems and improved the cultivation of olive trees and the production of oil. Furthermore, the Greeks, Phoenicians, Carthaginians and Visigoths left their mark on the art, science, culture and gastronomy of Andalusia.