Zurrukutuna
Bread Soup with Salt Cod
Salt cod is the star of this hearty winter soup, which is basically a simple garlic soup dressed up with the popular fish. The name comes from the onomatopoeic Basque word zurrup, a "sip" or "slurp," and kutuna, which means "pleasant."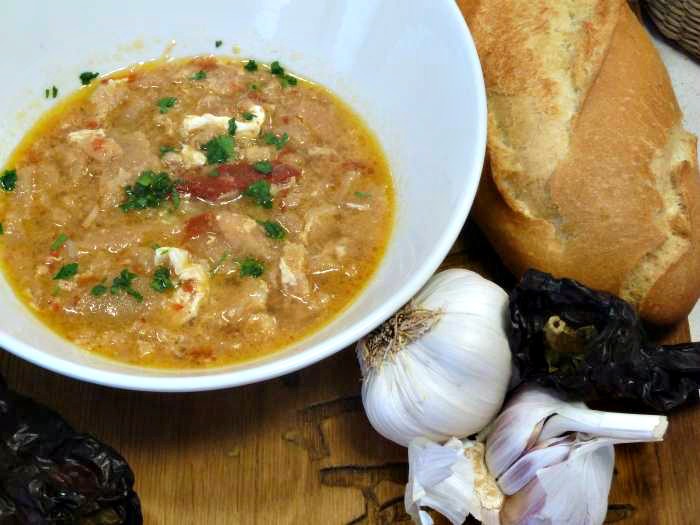 Ingredients
1 pound salt cod, desalted and cut into 4 or 5 pieces 
⅓ cup olive oil 
1 large yellow onion, finely chopped 
3 cloves garlic, finely chopped 
½ tablespoon sweet pimentón
½ pound day-old country-style bread or baguette, thinly sliced and toasted 
2 teaspoons salt
Preparation
You may be also interested in...
Heat a stove-top grill pan or frying pan over high heat (or you can use a charcoal grill). Add the cod pieces and cook, turning several times, for about 10 minutes, or until golden. Transfer to a dish and, when cool enough to handle, discard the skin and any bones and shred the fish with your fingers into threads.
In a large saucepan, heat the olive oil over high heat. Add the onion and sauté for 5 minutes, or until golden. Decrease the heat to medium and add the garlic, pimentón, and cod and stir with a wooden spoon until well mixed. Add water to cover by 1 inch and cook over medium heat for about 30 minutes, or until the flavors are well blended.
Add the bread, break it up with the spoon, and mix well with the other ingredients. Add the salt and simmer for 5 minutes longer, or until the ingredients are fully blended. The soup should be fairly chunky and without much liquid.
Ladle the soup into warmed bowls and serve.
See also
Basque Recipes: Basques live for cooking and eating. I haven't found a similar level of passion anywhere I have traveled. If we try to describe Basque cuisine, a fair answer might be that it is deeply felt, honors tradition, and respects the natural flavors of the ingredients. These qualities are on display in the significant number of dishes that are distinctively Basque. The international acclaim achieved by the new Basque cuisine movement led by Juan Mari Arzak is only the most recent example of how Basque cookery has influenced the tables of the rest of Spain and beyond
Bacalao al Pil-Pil is a classic Basque fare. After you prepare the garnish and simmer the cod for several minutes, you make the sauce by engaging the cod in a 'dance' with the olive oil to create an emulsion that looks very much like a mayonnaise. The dance is not without challenge, but even the patient novice cook can produce an excellent result.
Platos de cuchara: Scores of soups and legume stews, called platos de cuchara, literally "dishes eaten with a spoon," are beloved across the country. Many of them are regional variations of national favourites, and in this section, we have included recipes that reflect that diversity.