Atun en Rollito a la Asturiana
Asturian Tuna Roll
Whenever I ask Asturians which recipe from their region must be included in a Spanish  recipe site like this one, the answer is nearly always the same: Atun en rollito.
It is originally from Cudillero, a fishing village close to Aviles, where it is prepared with the bonito that is abundant there during the summer months. The white-fleshed bonito is not easy to find in the United States, but the dish can be made with the pinker-fleshed bluefin tuna instead.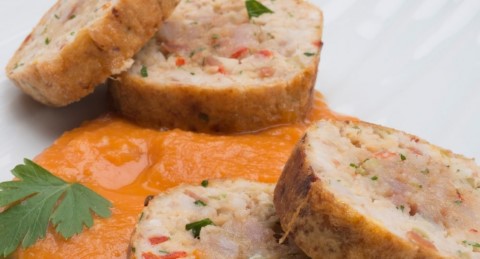 Ingredients
1 pound lean tuna fillet
1/2 teaspoon salt
1/2 teaspoon freshly ground black pepper
1/2 cup olive oil
1 small yellow onion, finely chopped
1 clove garlic, finely minced
1 tablespoon chopped fresh flat-leaf parsley
2 tablespoons chopped green olives
3 ounces Jamon, finely chopped
2 tablespoons finely chopped preserved piquillo pepper
2 eggs, lightly beaten
1 tablespoon fine dried bread crumbs
2 tablespoons all-purpose flour
2 cups salsa española (Espagnole sauce)
Preparation
Using your fingers, shred the tuna into small pieces and place in a bowl. Season with the salt and pepper.
In a saute pan, heat the olive oil over medium heat. Add the onion and cook, stirring often, for about 10 minutes, or until golden and tender. Using a slotted spoon, transfer the onion to the bowl holding the tuna. Reserve the oil in the pan.
Add the garlic, parsley, olives, jamon, piquillo pepper, eggs, and bread crumbs to the tuna and mix well. Using your hands, shape the mixture into a log about 8 inches long and 3 inches wide.
Spread the flour in a shallow dish. Add the tuna roll and turn it in the flour to coat the surface evenly, then tap off any excess.
Return the saute pan with the reserved oil to high heat. When the oil is hot, carefully place the tuna roll in the pan and fry, turning as needed, for about 5 minutes, or until browned on all sides.
Just before serving, transfer the tuna roll to a cazuela, cover with the salsa española, place over medium heat, and heat through. Remove the roll from the sauce, cut crosswise into eight 1-inch-thick slices, and place 2 slices on each plate. Spoon the sauce on top and serve.
You may be also interested in...
See also
Asturias is a magnificent natural sea, mountain and country paradise with a very diverse environment. Protected on one side by the Bay of Biscay and on the other by the Picos de Europa mountain range, this region has always been isolated and protected from possible invasions and therefore has many deep-routed traditions and rituals.
Spanish Seafood recipes: The long coastline of Spain, combined with the two archipelagos, the Balearics and the Canaries, ensures that fresh fish and shellfish are ubiquitous elements of the Spanish table.