Atún Encebollado
Tuna with Caramelized Onion
Atún encebollado is one of the favorite recipes in Cantabria. Use bluefin Tuna (Atun) for this recipe to get the best results.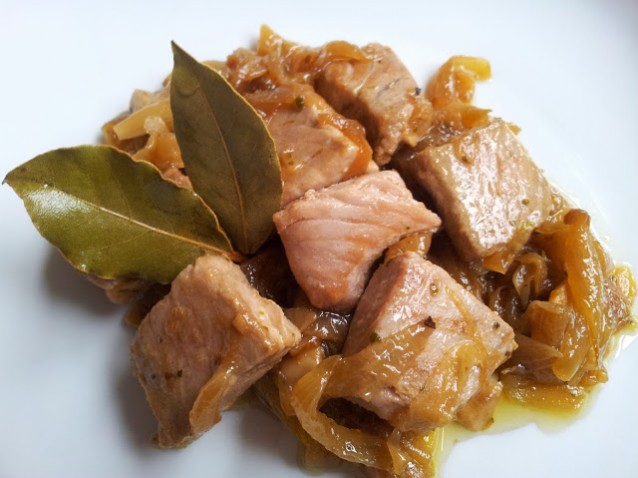 Ingredients
½ cup plus 3 tablespoons olive oil 
4 yellow onions, cut lengthwise into narrow strips 
3 tablespoons brandy 
Salt 
Juice of ½ lemon 
1 ½ teaspoons coarse salt 
4 (8- to 10-ounce) tuna steaks, about 1 inch thick 
½ green bell pepper, seeded and cut lengthwise into narrow strips
Preparation
In a large skillet, heat the ½ cup olive oil over high heat. When the oil is hot, add the onions and stir to coat well with the olive oil. Fry, stirring often, for 5 minutes, or until softened. Decrease the heat to medium and cook, stirring often, for about 30 minutes, or until golden brown. Add the brandy and season with salt and continue cooking for about 10 minutes longer, or until the brandy has evaporated and the onions are a rich brown. Remove from the heat and set aside.
In a shallow bowl, combine 1 tablespoon of the olive oil, the lemon juice, and the coarse salt and whisk until blended. Coat each tuna steak on both sides with the mixture.
Heat a stove-top grill pan or a skillet over high heat. Add 2 tuna steaks and sear on both sides, turning once, for 30 seconds on each side. The tuna should be undercooked. Transfer the steaks to a cazuela. Repeat with the remaining 2 steaks.
Add the reserved onions to the cazuela and distribute them evenly among the steaks, taking care not to break up the steaks. Place over low heat and simmer for 5 minutes.
Meanwhile, in a small skillet, heat the remaining 2 tablespoons olive oil over medium heat. Add the bell pepper and sauté for 5 minutes, or until soft. Season with salt.
If you like your tuna moist and medium to medium-rare, arrange the bell pepper strips over the tuna and serve immediately in the cazuela. If you prefer your tuna well done, let it simmer for 3 to 5 minutes longer, or until opaque at the center when tested with a knife tip, and then serve.
You may be also interested in...
See also
Cantabria recipes: The Region of Cantabria is very rich in history, art and natural areas: the sea, valleys with mild and warm micro-climates, fertile pastures... the varied cuisine cleverly combines the products from the sea with those from the pastures and market gardens.
Spanish Seafood recipes: The long coastline of Spain, combined with the two archipelagos, the Balearics and the Canaries, ensures that fresh fish and shellfish are ubiquitous elements of the Spanish table.