Roncal Cheese
Pressed paste cheese made in the Roncal Valley, in the north Navarre, with raw milk from the Rasa and Lacha breed sheep. 
The milk must be whole and without colostrum that could adversely affect the creation, ageing and preservation of the product, and it must be balanced in fat and proteins.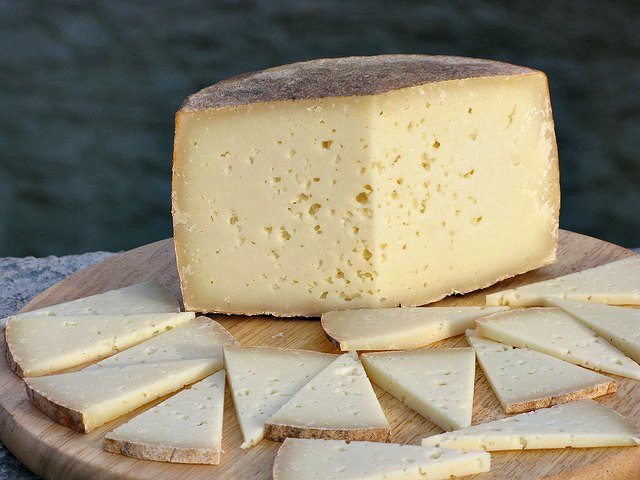 The creation process consists of the curdling, cutting, draining, moulding, salting and ageing phases, and is carried out especially between the months of December and July, both inclusive.
Roncal cheese has a hard rind, which presents some of the mould that gives it a bluish grey colour and a certain velvety texture. It is cylindrical with sharp edges, it weighs between 2 and 3 kilos, and is between 8 and 12 cm tall. It has a sharp flavour, slightly spicy and very buttery on the palate, which is achieved by ageing the cheese for over 4 months. 
| | |
| --- | --- |
| | Roncal Sheep's Milk Cheese, D.O.:Roncal easily crumbles when cut, and has a robust, slightly sharp flavor and a smooth texture. Each handmade half wheel has within it the secret of its artisan production |
You may be also interested in...
See also
| | |
| --- | --- |
| Spanish Cheese: In slices, for spreading or in cubes. As a snack, for dessert, in salads or as part of a recipe. Cheese is delicious any way you try it, and it is always a part of any meal worth the name. Simple but delicious, devotees of this dairy product will find more than a hundred different varieties in Spain. It is one of the vital ingredients in Spanish cuisine. Come and discover it!  | |
Navarra recipes: It is said that taste is found in variety and of all Spanish regions, the Autonomous Region of Navarra has the most varied landscape. Valleys alternate with thick forests, splashing waterfalls and major rivers.