Sauteed Piquillo Peppers
Piquillo peppers require little extra work because they are already roasted and bursting with flavor straight out of the jar. I often serve them as a side dish with meats, sautéing them in olive oil, garlic, and a little milk.
The addition of the milk is not traditional, but I have found that it combines with the olive oil to make a whitish and surprisingly delicious sauce.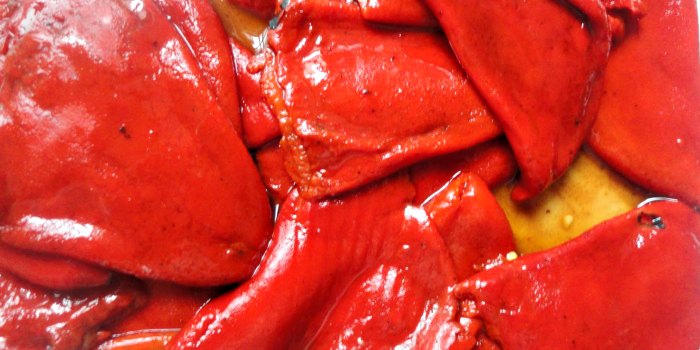 Ingredients
6 tablespoons olive oil
1 clove garlic, thinly sliced
1 (10-ounce) jar preserved whole piquillo peppers (about 18 peppers)
Salt
1/4 cup whole milk
Preparation
In a saute pan, heat the olive oil over high heat. Add the garlic and saute for about 2 minutes, or until it begins to turn golden.
Add the piquillo peppers, decrease the heat to medium-low, season with salt, and stir briefly to blend the ingredients.
Add the milk, decrease the heat to low, and cook, swirling the pan occasionally, for about 5 minutes, or until the sauce turns whitish and the flavors are blended. Serve inmediately.
You may be also interested in...
See also...
Pimientos del piquillo rellenos (Stuffed piquillo peppers): Vegetables don't care about borders, and even if piquillo peppers are considered a Navarran specialty, neighbors next  door in La Rioja claim some rights over the celebrated peppers. Here, they are stuffed in the manner of Logroño, the capital of the region and a good starting point for visiting a number of excellent nearby wine cellars. 
Navarra recipes: It is said that taste is found in variety and of all Spanish regions, the Autonomous Region of Navarra has the most varied landscape. Valleys alternate with thick forests, splashing waterfalls and major rivers.