Spanish Christmas Sweets
Spain's gastronomic wealth comes to its pinnacle at Christmas time. It is a time for parties and celebrations, and also for big meals with, of course, typical Christmas sweets. These are exquisite, traditional recipes, many of which have centuries of history - something not to be missed at this time of year. Come and spend a few unforgettable days in our country and discover a world of unique, smooth flavours, a real treat for the taste buds.
Spanish cuisine is rich in flavours and smells and is very deep-rooted in the country's culture. At Christmas, culinary delicacies, and especially desserts, become par for the course, covering tables all over Spain with colour and sweet tastes. Discover these authentic, traditional desserts - sweet treasures made with almonds, honey, sugar, chocolate and fruit, among other things, with world-renowned quality.
There are a huge number to try. There are many different Christmas sweets available all over Spain. The star at Christmas time, however, is surely turrón . This is a sweet of Moorish origins that can be found in most homes over the festive season. Try it and you will be captivated by its flavour. There are many different types of turrón. Not to be missed are the Jijona variety, with a soft texture and the Alicante variety, which is hard. Their exquisite taste will captivate you for ever.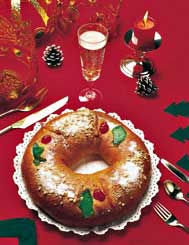 Another of our country's most traditional desserts is marzipan , made of almonds and sugar. You will usually find it in "shapes" or as the basic ingredient for a host of different sweets. Each region has its own typical recipe and the sweetest delights appear in every corner of Spain. There is no excuse for not dipping into this world of sweet sensations. These are a few of the most typical: polvorones from Andalusia and Toledo, neulas from Alicante, mantecados and pestiños from Andalusia and Extremadura, guirlache from Aragón, casadielles from Asturias, Basque cake , intxaursalsa, goxua and panellets from Catalonia and paparajotes from Murcia. Not forgetting of course, the traditional Christmas ring, a cake eaten on 6 January, the popular feast of the Three Wise Men. This is the most exciting day of Christmas for the youngest members of the family.
Make the most of the Christmas break to come to Spain and enjoy one of its most deep-rooted celebrations. You will, of course, be able to sample some of the country's most authentic and highly valued desserts. They are sugared delights with a thousand and one flavours that sweeten mealtimes all over Spain at this time of year. Fall into temptation and try some of these extraordinary sweets. There is no time like the present.
Typical Spanish Christmas products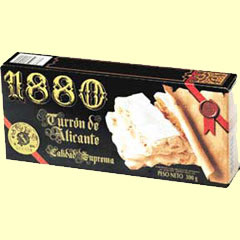 '1880' Gourmet Alicante Turron
Classic Turrón "Duro". Incomparable Marcona almonds make up over 65% of this 'suprema' quality gourmet bar - the most that can be added before the bars start to fall apart! They are bound together with 100% orange blossom honey -- to make this ample bar crunchy. For the Spaniard, '1880" is the gold standard of turrón – against which all others in the market are compared. Made following an artisanal process in Jijona, Alicante, Spain.
'1880' Gourmet Jijona Turron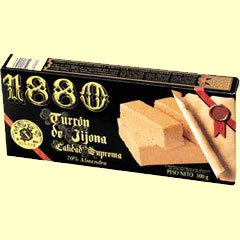 Incomparable Marcona almonds make up over 65% of this 'suprema' quality gourmet bar! The almonds are ground together with 100% orange blossom honey for a sweet and delicious treat. Truly the finest in the world! Made by hand in Alicante, Spain. (Soft Ground Marcona Almond & Honey Bar) Suprema Quality
Polvorones Selectos (Almond Crumble Cakes) by La Estepeña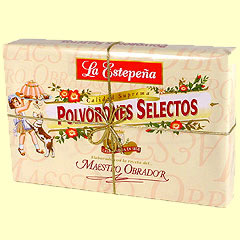 In Spanish, polvorón literally means powder cake. They are made using finely ground almonds, Iberico shortening, sugar and not much else, so they literally crumble in your mouth! The result is a sweet, slightly crunchy treat enjoyed throughout Spain during Christmas – and these are the highest quality available anywhere.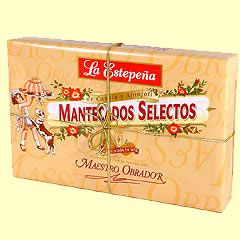 Mantecados Selectos (Traditional Crumble Cakes) by La Estepeña
Mantecados Christmas treats have been produced in Spain for centuries. These mantecados are still made in the traditional way combining flour, Iberico shortening, cinnamon, sugar and not much else. The result is a sweet, crumbly treat, a rich Spanish tradition you can enjoy in your home Christmas – and they are the highest quality available anywhere.
'El Lobo' Figuritas de Mazapan (Marzipan)
Mazapán is the traditional treat for the Christmas holidays, although it is enjoyed all year around. It is made of fresh almonds (ours is 46%) and pure sugar cast in the shape of little figures. Kids find the figures a special touch.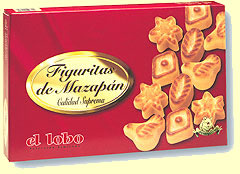 This confection stretches back through the centuries -- and even shows up in early French, Italian, and Arabic confections. Legendary Spanish mazapán is produced in Toledo where candy makers have been making it for many centuries.
The finest product has a shelf life of only 2 or 3 days and therefore cannot be exported. We tried to convince the greatest mazapán artisan in Toledo to make an exception. Would he be willing to fly some over just for us? But he was unyielding, saying that his mazapán would be irreparably compromised! Finally we did the next best thing.
We placed an order with the finest commercial producer of turrón, Juan Antonio Sirvent Selfa S.A, They are providing La Tienda with their El Lobo Suprema (Highest) quality Figuritas de Mazapán. The box has 17 individually wrapped pieces, additionally sealed in plastic to guarantee freshness. It is the best thing you can have without a trip to Toledo!
See Also...
Spanish Christmas Gifts:Christmas is approaching, and you're facing the usual question: What should I buy him (or her)? Well, we've got some ideas... What about something the whole family will enjoy? How about some Spanish Christmas Gifts?