Jamón Serrano - The Basics
(Dry-Cured Ham from Spain)
There is nothing more Spanish than jamón serrano. This country ham is a national treasure shared in Spain by all walks of life. Cured for at least a year, it has a much deeper flavor firmer texture than its closest relateive, Italian prosciutto. Serve as a 'Tapa' with cheese and olives, or in your favorite Spanish recipe.
Toghether with our affiliate partner - La Tienda - we are ready to offer you the opportunity to discover one of Spain's best kept secrets: Jamón!!! Keep reading and learn why this product is so special (don't miss the article on Iberico Ham....)
What's all this Ham thing about?
Jamon Serrano country ham is a source of great pride among Spaniards. From time immemorial in the mountains of Spain, they have rolled fresh hams in sea salt and hung them from their rafters to cure. A year to eighteen months later the jamones are ready to mount on special stands that are designed so that anyone can stop by, carve a few paper-thin slices, and enjoy an impromptu snack – perhaps with some manchego cheese.
It is unlike the smoked and salty Virginia country hams, which have to be soaked and cooked. And it is even significantly different from Italian prosciutto, which is cured for a few months with a coating of lard. The Spanish jamón serrano has distinctly more flavor, and significantly less salt than country ham and less fat than prosciutto.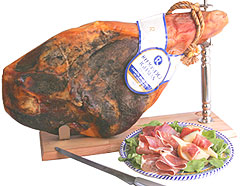 Jamón serrano is more than a delicacy in Spain; it is a normal part of every family's life. Every tapas bar and neighborhood café has their own hams. During the Holiday Season there are literally hundreds of them hanging from the rafters of major food stores for the holiday shoppers.
What is the appeal? Jamon Serrano is a flavorful, natural ham, cured in the country air. This extended curing transforms the ham, imparting a deep flavor and aroma. This lengthy curing also means it is much less fatty and has a firmer bite than Italian prosciutto. You can serve it sliced paper-thin with cheese and olives, or use it to flavor your favorite Spanish recipes.
The secret to jamon lies in its curing, recreating the effect of traditional techniques. This tradition is kept alive in rural areas where in early winter, family and friends gather to slaughter their livestock in preparation for winter months. The hams are placed in sea salt for a brief period of time – approximately one day per kilo – and then they are strung up. They are allowed to experience the changes of temperature as the seasons progress. The right time to eat them is when an experienced ham-master inserts a long splinter of cow bone and whiffs the jamón, like a connoisseur of wine who sniffs the cork.
Until recently there were no Serrano hams in the U.S. and we are proud to carry all that are available. Whole hams are great for parties and family get-togethers, while a package of slices is convenient and great to serve at a moments notice. However you serve it, jamon serrano will add the flavor of Spain to your home.
We recommend...
If you're thinking of trying Jamón, we've selected some of Spain's finest products for you to taste. There is one for every need - from sliced Jamón for those that have never tasted it, to superb Iberico hams to be delivered in 2007 - pick your choice and enjoy the most authentic Spanish Experience!
'Reserva' Hand-Sliced Serrano Ham From Spain - 18 Month Cure Thin slices of 'Redondo Iglesias' Jamon

Size: 8 ounces - 225g

Each week we have fresh packages of wafer-thin slices of Redondo Iglesias Reserva prepared for us by a small butcher in the neighboring town. We use the finest jamón serrano available in the United States -- the extended 18 month curing time yields a lean ham with a rich nutty flavor.

Our butcher carves the each ham by hand, placing an interleaf between each slice -- many of them are so thin you can actually read a text through them!

Time for serving tapas? Just peel off the slices you want, and keep the rest in a zip-lock package for another day.

5-Pack of 'Reserva' Sliced Serrano Ham From Spain - 18 Month Cure Hand-Sliced 'Redondo Iglesias'

A 10% Savings!

Size: 5 x 1/2 lb

5 packs of authentic premium Redondo Iglesias jamón serrano, imported from Spain, sliced and ready to serve. This is the finest 'Reserva' Serrano ham in the U.S. Just think, instant tapas! Order now, and have some wonderful tapas next weekend.

Boneless Imported Serrano Ham - 1 to 2 lb End Piece

Note: More fatty than other pieces

Size: 1 to 2 pounds

18-month cured reserva serrano ham by Redondo Iglesias is the best in the U.S. This cut of ham is the bottom end piece of a boneless ham. It is great for slicing and also has extra fat to be used in cooking. About 70% meat.

Traditional Bone-In Jamon Serrano Ham - 18 Month 'Reserva'

The Finest Available Ham from Spain by Redondo Iglesias

Size: 16-18lb/7-8kg

This is the real thing -- the traditional jamón serrano Spanish country ham. You can see them is just about every home in Spain -- especially around Christmas time. In fact the hams are so popular that there is actually a chain of restaurants named "Museo de Jamón". In a person's home the traditional bone-in jamón is often mounted on a special rack which displays it at its best. Next to it rests a long sharp knife for easy carving. Throughout each day family members, relatives and friends each slice a few paper-thin pieces for a refreshing snack. The bone in jamón is a wonderful centerpiece for any gathering of family or friends. No refrigeration needed. Unwrap immediately upon receipt

Bone In Jamon Iberico from Spain - Pre-order only for 2007-2008

Price is DEPOSIT ONLY. Each ham will be weighed individually. (full jamon will cost $800+)

$199.00

We at La Tienda have been on a quest for the finest of all hams, Jamon Iberico, since we started our business. Like the Beluga caviar or Kobe beef, "Jamon Iberico" is the ultimate of its kind. Jamon Iberico hams are marbled with rich golden fat, infused with the flavor of its favorite food, the acorn. Sliced paper-thin, it has a rich nutty flavor and tender texture. Jamon Iberico is the pride of Spain, and Spaniards consume the vast majority of these hams in their own country.

Some producers have waiting lists for several years for their best products. The target date for delivery of the whole traditional "pata negra" Jamon Iberico will be scheduled for 2007-2008. Each ham will be weighed before shipping. Because of variation in the value of the Euro, the per-pound price may change. Learn more about this "Pata Negra" Jamon from Spain by clicking here.

Cost: $59+/lb (minimum) - Approx. 15 lb. DEPOSIT ONLY AT THIS TIME - FINAL PRICE WILL BE MINIMUM OF $800. (Don't want to wait? Try our excellent Jamon Serrano...)

Boneless Jamon Iberico from Spain - Pre-order only for 2007-2008

Price is DEPOSIT ONLY.

Each ham will be weighed individually. (full jamon will cost $600+)

$199.00
See Also...