Spanish Paprika (Pimentón)
Spanish paprika is a natural condiment, intense red in colour, with a strong flavour and aroma, which is obtained from grinding red peppers.
Its origins date back to the introduction of the pepper to Spain following the conquering of Mexico. The process of obtaining the paprika has two phases; drying the vegetable and then grinding them.
The drying process, following dehydration produced by a heat treatment, usually lasts two weeks. Then it is classified according to type and quality (sweet, bittersweet or spicy), the grinding process begins, and, finally, it is packaged.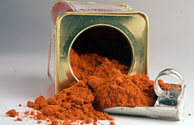 Although its primary destination is the delicatessen industry, it is also a common element in home cooking. It is a widely used condiment in many traditional Spanish dishes, accompanying fish (octopus or ray), all types of stews, and as an essential ingredient in most Spanish sausages.
It crosses into regular American cuisine as a seasoning for barbecue pork, kebabs, and rich beef and lamb stews. Although it is not generally available, even in many gourmet shops, there is no substitute for use in authentic Spanish cooking. Pimenton comes in three varieties -- sweet and mild (dulce) bittersweet medium hot (agridulce) and hot (picante) -- and normally keeps for two years.
Sweet Smoked Paprika

Size: 2.5oz/70g

You will find this sweet variety of pimentón a unique and versatile seasoning. If there is one spice that captures the essential flavor of Spain, it is this one. It is neither the bland paprika you get at the local supermarket -- nor even the traditional Hungarian paprika. It provides an inimitable Spanish flavor to all of your paellas

Bittersweet Smoked Paprika

Size: 2.5oz / 70g

Bittersweet Pimentón Agridulce is La Vera's most traditional spice -- used for home-cured sausages, por and meat, bean and game stews through the centuries in the north of Spain -- and makes up 2/3 of the total production.

This blood red pepper (it is not blended as is often thought) produces a satisfyingly prickly piquant heat. The noted author Penelope Casas selects this bittersweet variety of pimentón for all of her paella recipes. You will be delighted to experience how this product produces a distinctively smoky flavor booster for your homemade stews and sauces.

Hot Smoked Paprika

Size: 2.5oz / 70g

This is the third member of the pimentón triumvirate. Several peppers are milled together to make a decidedly piquant - tangy - flavor.

I wish the English translation on the tin did not say "hot", because it may bring you visions of flaming spices typical of Mexican or Hispanic cuisine. But this is not the case. Traditional Spanish cuisine never assaults you! On the other hand, if you like lightly spicy sauces for your barbecued meats - this might be a pleasing addition to your palate.

3-Pack of Smoked Paprika

Size: 3-Pack, 3x2.5oz/70g

One of each flavor
---
Keep in touch with Spain Recipes!
Subscribe to our e-zine!
---
Help us keeping this page updated with the best spanish recipes!

If you like this site, make a donation. It will help us to keep delivering you the best spanish recipes resources for free!

For as little as $1, you'll contribute to make this space of spanish culture and gastronomy grow!

Just click on the icon below!

This donation will be processed securely by Paypal, you don't have to worry on security of your credit card data.
---

Subscribe to our RSS feed
Add our feed to your MyYahoo! home page

Add our feed to your MyMSN home page