Tasting Olive Oil
Every olive oil we have is of the highest quality. Since they are comparable, it is up to you to decide which one tastes best to you. The simplest way to taste an olive oil is to pour a little pool of oil in a saucer and dip in a morsel of good crusty white bread.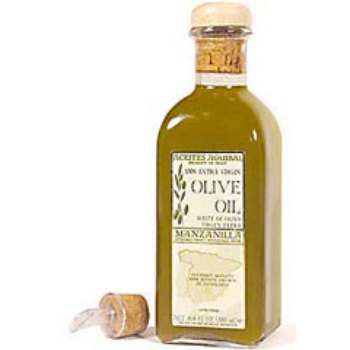 Olive oil is judged by its bouquet and taste alone. For example, an oil is termed fruity when its flavor and aroma are similar to that of a mature olive. Don't bother with its color. Some people have heard that good olive oil is always green. However, the color of the olive oil is never a tasting factor. Professional tasters even use blue glass containers so that their judgment will not be affected by the color.
Good flavor is the result of picking healthy fresh fruit at the optimum stage of maturity. All oils after pressing seem fruity, but in most cases, this characteristic disappears after a few months. Authentically fruity oil maintains this characteristic aroma through time. The differing properties of individual oil depend on the ripeness of the olives when harvested, how they were kept and how the oil was extracted.
You may be also interested in...
See also
Our olive oil selection
We have listed below all of the olive oils that we carry, along with descriptions of their flavors and uses. 

| | | | |
| --- | --- | --- | --- |
| Product | Olive varieties and origin | Flavor | Recommended for |
| | 100% cold pressed Arbequina olive oil from Catalonia | Silky, smooth oil with no bitterness. Flavors of almonds and dried fruit | Fresh crusty bread for dipping; garden salad with tomatoes |
| | Picudo, Hojiblanca and Picual from Cordoba | Complex warm and fruity flavor. First cold pressed - very low acidity | Green salads and dipping with crusty bread; good for cooking meats, stews, seafood and sautés. |
| | Balanced blend of Arbequina and Empeltre from Aragon | Medium - fruity and flavorful | Dip some crusty bread in it, or adorn a salad bowl of baby greens |
| | 100% cold pressed Arbequina olive oil from Catalonia | It has delicate flavors of green apples, herbs and roasted almonds | It is the perfect pairing for fresh greens, sautéed garden vegetables or warm baked bread |
| | Nevadillo Blanco, from Sierra Morena in Andalusia | Fruity flavor, smooth texture, with peppery finish | Perfect oil for crusty bread and salad greens |
| | Arbequina from Andalusia | Fresh, fruity and bursting with flavor | Enjoy it on its own, with a loaf of fresh or toasted bread |
| | Coupage of Hojiblanca and Arbequina oils from Castilla-la Mancha | Buttery and mild with herbal, nutty flavors | Perfect for fresh salads and for sauteing vegetables and seafood. |