Basque Recipes
Basques live for cooking and eating. I haven't found a similar level of passion anywhere I have traveled. If we try to describe Basque cuisine, a fair answer might be that it is deeply felt, honors tradition, and respects the natural flavors of the ingredients. These qualities are on display in the significant number of dishes that are distinctively Basque. The international acclaim achieved by the new Basque cuisine movement led by Juan Mari Arzak is only the most recent example of how Basque cookery has influenced the tables of the rest of Spain and beyond.
From the sea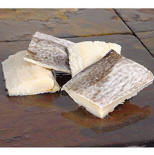 Basque fishermen have been sailing the northern Atlantic since the eleventh century. While following the whale, which at the time was the most treasured catch, they encountered banks of cod off the coasts of Terranova (Newfoundland) in the Gulf of Saint Lawrence. On nearby islands, some settlements still carry Basque names, and salt cod, or bacalao, is a hallmark of Basque cuisine. Some historians believe that Basques landed in America before the arrival of Columbus, but while explorers and discoverers proudly proclaim their findings, fishermen never disclose the source of their catch.
The sea has always provided nourishment for the Basques. Squid, preferably the small ones called txipirones, are cooked in an onion sauce with their ink, to produce txipirones en su tinta. The deep black of the sauce initially evokes curiosity and sometimes aversion in the uninitiated, but after the first bite, reservations dissolve in the velvety texture of the squid and sublime taste of the sauce. Though more and more scarce, merluza (hake), or lebatza in Basque, from the Bay of Biscay knows no paragon (with all due respect to its austral relative from the southern seas). The darker-skinned Basque hake has firm, delicious flesh. Cooks typically panfry the medallions from the upper body and either roast the tail in one piece or cut it crosswise into "steaks" for merluza en salsa verde, the classical green sauce preparation.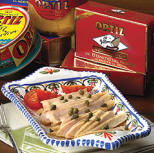 Marmitako, the potato and tuna stew originally prepared by fishermen on their boats, has become a standard offering in many restaurants. The tuna belly, called ventresca (or ijada in Basque), is extremely juicy, flakes beautifully, and is the best tuna for salads. It is usually roasted in the oven with just a little garlic and a splash of olive oil.
Bacalao, or salt cod, is a staple of the Basque kitchen. Basques are masters of the art of turning a stale and salty fish into something sumptuous, specially when prepared pil-pil style, in an emulsion of the cod's gelatin and olive oil. Other cod preparations, such as a la vizcaína, Club Ranero, and ajoarriero, the latter a loan from neighboring Navarra, are also popular.
A la vizcaína, or Biscayne style, describes a dish cooked in salsa vizcaína, a dried-pepper sauce. The dried peppers, called choriceros because of their importance in the production of chorizo sausages, are harvested at the end of the summer when ripe and hung from the facades of farmhouses to dry. The area surrounding Gernika is famous for these sweet and delicate peppers.
Those not destined for drying are harvested while still green, fried with olive oil, and served as accompaniment to meats and fish, and sometimes alone as a first course. Delicious red beans also come from Gernika, although those from Tolosa are better known. Both are equally tender and buttery and usually cooked with sausages in a stew, supplanting the chickpea stews so popular in other areas of Spain.
Txokos and pintxos
All of these dishes are staples of txokos, the gastronomic societies of Basque Country. These culinary havens are the dominion of men, as their rules restrict women from joining, though some societies make exceptions and allow them in once a month or sometimes once a year. Their purpose is to give members a place to show off their culinary techniques and creations and to have a good time cooking, eating, and drinking. These traditional societies have made significant contributions to the annals of Basque cooking, and some dishes that originated in txokos, such as marmitako made with salmon instead of tuna or various foie gras and duck breast dishes, have become classics.
Equally traditional is barhopping before lunch of dinner, which is essentially a regional sport. Bar counters display numerous pintxos, the equivalent to tapas in other areas of the country. Making the rounds consists of popping in and out of several bars, usually the same ones every day, grabbing a pintxo and drinking a txikito (a small glass of wine) in each one. It is a way to meet friends an acquaintances without arranging a specific date, before heading home for a proper meal.
Cheeses are among the typical pintxos found in the region's many bars, with Idiazábal, produced in Navarra as well, the most highly regarded. The sheep's milk cheese holds such importance for the Basques that a contest to judge the best artisanal Idiazábal cheeses is held every September in the town of Ordizia, in Guipúzcoa.
Basque Wines
Rioja Alavesa, one of the three subregions of the La Rioja wine-producing area, is in the Basque province of Alava, an the wines from there are much lighter and fruitier than the ones from the other two sectors.

Txakolí is a distinct wine made from grapes - Ondarribi Beltza for the reds, Ondarribi Zuri for the whites - cultivated in the provinces of Vizcaya and Guipúzcoa (Bizkaiko Txakolina and Getariako Txakolina DOs). Generally young, light, and fresh tasting, it is available everywhere in the Basque Country, but specially in coastal areas, where it is a perfect match for seafood. Its effervescence makes it comparable to young whites from Penedès and Rías Baixas.
Cider has long been drunk in Basque Country as well, but the wine drinking, perhaps because of the proximity to the Rioja region, is of greater cultural importance.
See Also...
Basque Recipes
Merluza en Salsa Verde: This recipe is one of the front-runners of traditional Basque cooking. Salsa verde appears in many dishes: with clams alone, with monkfish or fresh cod, or with a combination of clams and hake, as in this recipe.
Marmitako: Marmita translates as 'pot' or 'casserole' in Basque, while the suffix ko is the genitive case, so that marmitako literally means 'from the pot'. Of course, just about everything in Basque cooking comes 'from the pot', but only this venerable dish goes by that name.
Bacalao al Pil-Pil (Salt Cod in an Olive oil Emulsion): Bacalao al Pil-Pil is a classic Basque fare. After you prepare the garnish and simmer the cod for several minutes, you make the sauce by engaging the cod in a 'dance' with the olive oil to create an emulsion that looks very much like a mayonnaise. The dance is not without challenge, but even the patient novice cook can produce an excellent result.
Basque products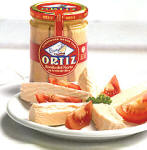 'Bonito del Norte' Tuna in Olive oil: Bonito del Norte is considered by Spaniards to be the finest of tunas. This dolphin-safe tuna is packed in olive oil to keep it moist and flavorful. Each tuna is line caught by hand, preserving the texture and flavor that can be damaged by the stress of harvesting by net. Coleman Andrew, the Editor-in Chief of "Saveur" Magazine, writes that Bonito tuna is "one of the great gastronomic pleasures of every day life." It is a far cry from the water-packed tuna you get at the supermarket.
Warning: once you taste this silky smooth tuna, you may never buy another tin of ordinary tuna.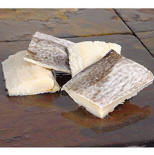 Premium Salt Cod Tenderloins (Solomillos de Bacalao): This is the very best bacalao from Spain: the top cut of the cod, the solomillo. Spanish fishermen catch these fish in the traditional manner using their own boats. The freshly caught fish is immediately hand-cleaned and packed in sea salt. This method has been used by these fishermen for centuries. The result is a firmer fish that is flakier when cooked. When you see the characteristic spots and stripes on the skin you will recognize that these gourmet pieces of bacalao are authentic, and not just a cod look-alike. The skin is retained so that you will experience the delicate flavor at its best.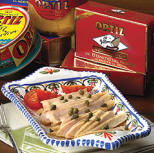 Ventresca Tuna - Belly Fillets in Olive Oil: As long as tuna boats have plied the seas, ventresca, the belly of the tuna, has been highly prized by connoisseurs as the tastiest and most tender part of the entire tuna. The Japanese treasure it under the name: "toro". Ventresca is the finest part of the Bonito del Norte tuna – otherwise known as albacore. Each tuna is line caught by hand, and freshly cleaned and dressed, without being frozen. This preserves the texture and flavor that can be damaged by the stress of harvesting by net. This method also assures that other creatures of the sea, such as dolphin or turtles, are not harmed. Our ventresca is prepared in limited quantities. It is cut by hand from the ventral area of a freshly caught Bonito tuna. Once it is perfectly cleaned it is filleted and put in a tin, always by hand, because no machine process would be capable of leaving intact such a delicate and tender meat. The ventresca it is then packed in olive oil thereby keeping it moist and enhancing its delicate flavor.
Txipirones en su tinta: If you select this handy three pack you will have some of these Basque delicacies on hand -- after you feast on the first tin! Chipirones (squid) sautéed in their own ink are highly prized in Pais Vasco -- the Basque Country. These baby calamari/squid are popularly eaten directly from the tin. But I prefer to warm them in their ink and serve them with Calasparra or Bomba rice. This rice is preferable to other kinds of rice (such as Arborio or long grain) because it absorbs the broth from the tin, yet each grain remains distinct.
Basque Wines

Fernando Remirez de Ganuza - Reserva - 2000: Wine Spectator - "This rich red shows dark yet alluring flavors of coffee, plum, prune and tobacco. It has a silky texture, firm tannins and a long finish. Sophisticated and harmonious; it should develop nicely. Drink now through 2015. 500 cases imported. 93"

Txomin Etxaniz - Txacoli (Chacolí) 2004: The Basque Country's fresh, white wine, called txakoli on home ground and chacolí elsewhere in Spain , is produced in the Region's three provinces. The DO, which encompasses the growing area in the province of Guipuzcoa (Gipuzkoa), is called Getariako Txakolina in Basque.
check out the spain-recipes swicki at eurekster.com