Spanish Saffron
Saffron is a deeply rooted condiment, both economically and culturally, in Castile-La Mancha. It should not be considered just another agricultural product, rather part of the historic and cultural patrimony of the region that must be protected and preserved. It has enjoyed a Protected Denomination of Origin since 17 March 2001.
Originally from Central Asia, cultivation of this plant was introduced to the Peninsula by the Arabs, very knowledgeable about spices, who made it a condiment that was monopolised by the Al Andalus bourgeoisie.
Cultivation has been maintained ever since its arrival to the region of La Mancha. It must be noted the special care required in its cultivation, harvesting (done by hand) and pruning of the flower to obtain this prized condiment.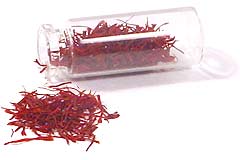 Saffron is obtained from the dried stigmas of the saffron crocus: Crocus sativus. It is used as a condiment, providing dishes with a characteristic orange colour and slightly bitter taste, as well as an exotic aroma. Saffron from La Mancha is different from others because of the red stigmas that extend outside of the flower and because their stems are short.
Saffron from La Mancha under the Denomination of Origin must always be saffron from the current harvest, since it loses quality over the years, and must be sold in strands only, never ground. The strands are flexible and resistant, with bright red stigmas.
Saffron from Spain - Select Grade

Highest Quality - Category 1

Size: 0.35oz/1gr

Saffron is evaluated in terms of the intensity of its color and its flavor. 'Select Grade' Peregrino has earned the rating of Category 1 according to ISO standards.

Attractively packaged in a clear glass container with a cork, your full thread saffron will keep fresh for months.

Saffron from Spain - Select Quality

Size: 1oz/28gr

This attractive tin of saffron contains 28 times as much as our smaller saffron jar at a great price.

This saffron is the highest quality saffron available, therefore it has almost twice the strength of many other brands of saffron. It is harvested in the sunny gardens of La Mancha, the native land of Don Quixote. The flowers of a particular strain of crocus are picked individually and peeled by hand to reveal the delicate stigma that are then sorted by size and color before they are toasted. The result of this labor-intensive process is a most extraordinary and exotic condiment; ideal for preparing traditional Spanish dishes such as paella and saffron rice.

Coupe Saffron - The Ultimate in Saffron

Size: 0.17oz/0.5gr

The most intense color and flavor. Sometimes when you think you have the best that money can buy, you find that there is something even more special -- a secret cache that few know about.

This is the case for Coupé saffron, which has been taken one step closer to perfection.

Approximately 200 crocus flowers are needed to obtain the saffron you find placed in this bottle. The saffron is Select Class I (the top category) in terms of richness of flavor and intensity of color. It is made in the region of La Mancha where the world's best saffron is gathered by hand. What more could one ask for?

Try this! Each strand of saffron has a deep red end, containing the highest concentration of its flavor and color, and a thinner, lighter yellow tip. 'Coupé' saffron is just the darkest, most intense part. To produce Coupé, a person selects the highest quality "Select Class 1" strands of saffron and, one strand at a time, further trims them by snipping off the slightly lighter-colored end.

Because only the most intense part of the saffron strand remains, you need not use as much saffron for your recipe and it will have the fullest of flavor and the richest of brilliant saffron yellow.